Welcome to Hooker Fishing Tackle – NZ…
The Home of Professional Fishing Equipment
6 Caught On Hooker Lures...Cheers!
We've just finished fishing the Nationals where we tagged and released 2 stripeys on 1st day - both caught on a Hooker Lure (Blue Knight).
Dropped 5 others over next three days, 4 of which were on Hooker Lures. Cheers!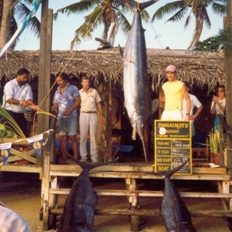 What Great Lures These Are!
Lure: Medium Swimmer (Blue Knight)
Just got back from a fishing holiday in the Bay of Islands on my boat "Flying Start".
Tagged and released 6 marlins, 3 of them on the Medium Swimmer (Blue Knight) lure, even though it was swimming alongside various other named brands. Proof again what great lures these are! Cheers - Colin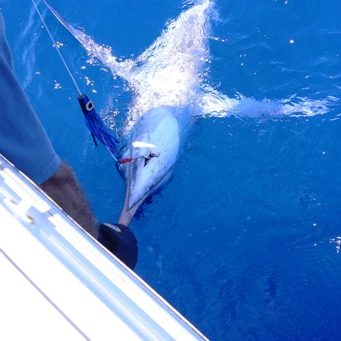 Angler: Colin
Bay Of Islands
The Quality and Workmanship Is Outstanding!
Just a short note to say thank you for helping with the personalised lure you made for me. The quality and workmanship is outstanding and I can't wait to show it off this season.
I have included in the e-mail a photo of the marlin that we caught this year which at the time the fishing was very hard for some boats but we caught 2 marlin ( Blue and a Stripey) on two consecutive days on the same lure ( BLUE KNIGHT BIG SWIMMER). In fact the marlin swam past other lures to get it. Know that my boat will be fishing HOOKER lures this year.
Thanks, Pete the PO-CHA .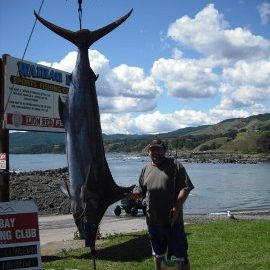 Angler: Pete
Team PO-CHA FISHING.
15 Marlin Caught On Hooker Lures!
Lure: Big Swimmer - Blue Knight
Matthew's team was runner-up in Western Australia's biggest game fishing competition " Exmouth's Gamex ".
This was the first and smallest of 15 marlins caught on our lures by Matthew and his team during the comp. Awesome!
"We raised over 40 billfish, tagging 18 with all but 3 coming from my new Hooker lures."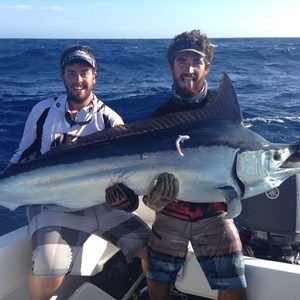 Wow...332.3kg Blue Marlin - Competition Winner
Lure: Big Swimmer - Skippy colourway
Paired with one of our Wind on leaders. Wow - a fantastic catch for the launch Satisfaction II skippered by Kelvin Cruickshank.
His angler Graeme Wiggins played a blue marlin for 10 hours, with the fish dying during the play and a concerted effort between skipper, angler and crew planing up the fish and boating it. A Pin fish and competition winner .  Also the new Club line weight Record for a Blue Marlin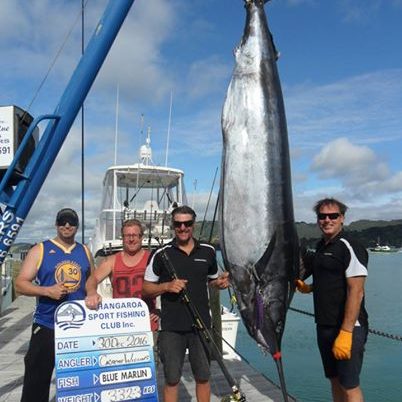 Angler: Graeme Wiggins
Boat: Satisfaction II | Skipper: Kelvin Cruickshank
Bagged A 173.8kg Blue
Lure: Big Flat- Lumo Ghost Big Flat
Went out with a mate on our boat on Saturday and we managed to bag this one (a 173.8kg Blue) on my new Big Flat lure.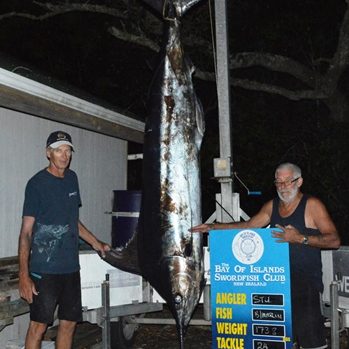 Angler: Stu Webb
Bay Of Islands, NZ
Free Shipping For All Orders Over $100 - NZ Only!